WHAT YOU SHOULD KNOW
You must be a competent swimmer, have a good level of fitness and a head for heights. Ideally you will have been coasteering before. You MUST have been coasteering with us before so that we know your ability before we take you on a more adventurous coasteering adventure.
CONDITIONS REQUIRED
Coasteering is run between Easter and the end of September. If the sea state (swell) is too rough for coasteering, Sea Level Traversing can often be run as an alternative or Gorge Scrambling is sometimes offered.
WHAT IS PROVIDED
Instruction at a maximum ratio of 2 instructors :10 participants
Equipment to run the activity plus
Your Safety Equipment :
Helmet
Wetsuit
Bouyancy Aid
WHAT YOU NEED TO BRING
Food and Water
Sun cream
Trainers - that you are happy to get wet
Dry set of clothes + towel
Swim wear + t-shirt to wear under wetsuit
WHAT PREVIOUS CUSTOMERS THOUGHT
"Easily one of the best packages I've done. Brilliant instructors, more than happy to let you push yours own limits. Can't recommend this enough."
Adam Bridgeford, Manchester
"Awesome package of unique activities to push your own limits! Character building stuff indeed!! Highly Recommended. ;-)."
David Hughes, Manchester
"Excellent day out with Paul coasteering round the coast of North Wales. the prospect of jumping into a cold sea was daunting but the experience was well led, so by the end of the day I was flinging myself off cliffs. Fantastic fun, even if it was a cold day!."
Ed Priestnall, Derby
WHAT IS ADVENTURE COASTEERING?
Coasteering is an exciting journey along the coastline down at sea level. It involves scrambling along the cliffs, swimming in the sea, and jumping off rocks into the sea. ADVENTURE coasteering involves visiting some of the more serious and commiting cliffs of Anglesey. You will find yourself in stunning scenery, often having done a commiting abseil to access the bottom of the cliff. Rock climbing and swimming are used as a way to discover the coastline. Some big sea caves and rifts can be explored.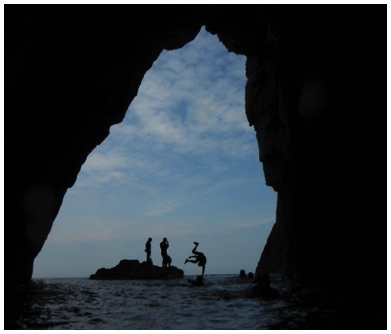 ABOUT
Snowdonia Outdoor Adventure is run by Paul James. We provide unique water and rock based adventure activities - Coasteering, Gorge Walking, Rock Climbing, Mountain Walking, Abseiling and Sea Level Traversing.
© SNOWDONIA OUTDOOR ADVENTURE 2019