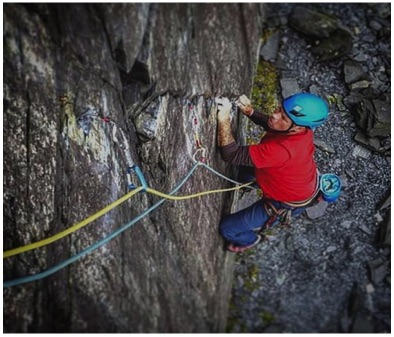 WHAT IS ROCK CLIMBING?
Spend a day trying rock climbing on real rock in Snowdonia. Learn how to tie yourself onto the rope and to belay. You will spend the day rock climbing at a crag in Snowdonia enjoying movement upwards over rock, perhaps facing a fear of heights to feel a great sense of success at the top of each climb you try. Your instructor will choose the best venue for the weather conditions - you may be enjoying a mountain environment or a coastal one - which ever you end up at you will have a brilliant day rock climbing in fantastic surroundings.
WHAT IS BOULDERING?
Bouldering is climbing on small rocks (boulders) without the use of ropes. The idea is to try something that challenges you but is safe enough to step off if you cannot do it. Bouldering helps climbers to become stronger and is a good form of exercise as you can get lots of climbing done on small boulders.
WHAT YOU SHOULD KNOW
No previous experience required - enthusiasm is the key!
CONDITIONS REQUIRED
Ideally a dry day, however we can usually find a crag that is sheltered.
A sample of a few days rock climbing
WHAT PREVIOUS CUSTOMERS THOUGHT
"Well chosen activities and good locations to minimise driving time. Excellent communication beforehand and good management of mixed ability group. Great manner and thankfully un macho in approach."
Tatti MacNally, Brighton
"Thanks a lot!!! The weekend was amazing! All of us were completely thrilled and would love to do it again some time. The instructions were easy to follow and great for us beginners:) Paul and Luke were really kind and it was great to see a bit more of Wales during the rides. A big thank you from all of us!!!"
Hanna Hautau, Au Pair Group
WHAT IS ABSEILING?
Abseiling is a techniques used by rock climbers to safely get themselves back down from a cliff, or to the bottom of a cliff to climb back out. It is also an exhilarating activity to try if you are not a climber. You need to be prepared to push yourself over the edge and control your speed down a cliff whilst hanging in your harness from a rope. Abseiling can be done as part of a Rock Climbing day or as a half day activity combined with Gorge Scrambling, Sea Level Traversing or Coasteering.
WHAT IS PROVIDED
Instruction at a maximum ratio of 1 instructor :10 participants
Equipment to run the activity
plus
Your Safety Equipment :
Helmet
Harness
WHAT YOU NEED TO BRING
Food and Water
Sun cream
Trainers
Tracksuit bottoms
T-Shirt and Jumper
Waterproof Jacket and Trousers






ABOUT
Snowdonia Outdoor Adventure is run by Paul James. We provide unique water and rock based adventure activities - Coasteering, Gorge Walking, Rock Climbing, Mountain Walking, Abseiling and Sea Level Traversing.
© SNOWDONIA OUTDOOR ADVENTURE 2019