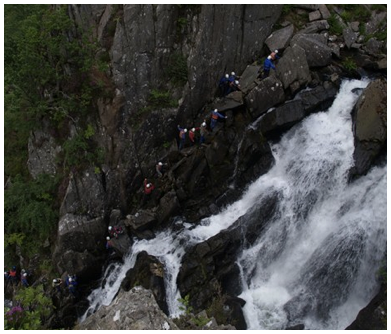 WHAT IS GORGE SCRAMBLING/WALKING?
Gorge Scrambling or walking is a journey up or down a gorge, scrambling past waterfalls and pools over the rocks. There are all sorts of challenges to overcome when gorge walking. You will find yourself traversing along rock walls and jumping from boulder to boulder. As the day goes on you will be climbing waterfalls and sliding down water washed channels. There are squeezes to raise your heart rate and if that is not enough jumps into deep plunge pools. Getting wet is part of the fun and there are plenty of chances to jump into the deep plunge pools or slide down natural flumes in the rock into deep pools. The gorges we use in Snowdonia are beautiful picturesque places. Check out our movie at the bottom of the page to see what it is all about.
WHAT YOU SHOULD KNOW
No previous experience required - enthusiasm is the key!
CONDITIONS REQUIRED
Gorge Walking/ Scrambling is run all year round.
WHAT PREVIOUS CUSTOMERS THOUGHT
"Well chosen activities and good locations to minimise driving time. Excellent communication beforehand and good management of mixed ability group. Great manner and thankfully un macho in approach."
Tatti MacNally, Brighton
"Thanks. It was a very successful day and we appreciated your humour and patience."
Ritchie Head
"We just wanted to pass on our thanks to you for organising such good activities for us this week. We had a great time gorge walking today. Anne was amazing! She really put in lots of effort to ensure that we had a great time and did lots of different bits and pieces. We both felt very lucky to go with her."
Steve & Sam Viney
"Thanks a lot!!! The weekend was amazing! All of us were completely thrilled and would love to do it again some time. The instructions were easy to follow and great for us beginners:) Paul and Luke were really kind and it was great to see a bit more of Wales during the rides. A big thank you from all of us!!!"
Hanna Hautau, Au Pair Group





WHAT IS PROVIDED
Instruction at a maximum ratio of 1 instructor :10 participants
Equipment to run the activity plus
Your Safety Equipment :
Helmet
Harness
Wetsuit
Bouyancy Aid
WHAT YOU NEED TO BRING
Food and Water
Sun cream
Trainers - that you are happy to get wet
Dry set of clothes + towel
Swim wear + t-shirt to wear under wetsuit



© Snowdonia Outdoor Adventure 2018