WHAT YOU SHOULD KNOW
No previous experience required - enthusiasm is the key!
CONDITIONS REQUIRED
We have a variety of locations where we can run this activity so it is rare that we cannot run it, its great to combine with coasteering or gorge scrambling or just as an acitivty in the colder months when you don'tt want to get wet.
WHAT IS PROVIDED
Instruction at a maximum ratio of 1 instructor :10 participants
Equipment to run the activity plus
Your Safety Equipment :
Helmet
Harness & cowstail
Wetsuit (depending on location)
Bouyancy Aid (depending on location)
WHAT YOU NEED TO BRING
Food and Water
Sun cream
Trainers - that you are happy to get wet
Dry set of clothes + towel
Swim wear + t-shirt to wear under wetsuit
WHAT IS TYROLEANS, ZIPS & CLIP LINES?
Incorporate some rope adventure into your day with a day of tyroleans, zip lines and clip lines.
Tyroleans are ropes that you go horizontally across a gap - feeling lots of space below your feet.
Zip lines you ride down a rope across a gap, again feeling space below your feet but with a bit of speed too.
Clip lines allow you to climb along a section of rock feeling the exhileration of climbing but normally going sideways traversing.
Where your adventure happens depends on the weather but it can be by the sea, in a gorge or over waterfalls.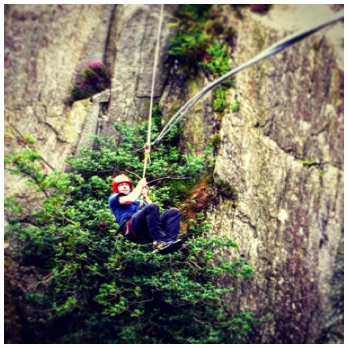 ABOUT
Snowdonia Outdoor Adventure is run by Paul James. We provide unique water and rock based adventure activities - Coasteering, Gorge Walking, Rock Climbing, Mountain Walking, Abseiling and Sea Level Traversing.
© SNOWDONIA OUTDOOR ADVENTURE 2019